Photo from Bloxsun
Hello Everyone!
I hope you are well! Happy Saturday! I hope you are having a great weekend thus far. If you are planning to do any outdoor work or activities this weekend, you may want to pick up a pair of gloves or sleeves featured in today's blog post. The products in this post protect the skin from harmful UV rays from the sun. Yes, it is sunscreen in fabric form! Not only do these gloves and sleeves protect you skin from sun damage, but they also look good!
I originally saw these sun protective items on Refinery29. When I did, I immediately thought of my sister, espically because they showcased a sun protective sleeve.My sister's job requires that she be outside for most of the day. The North Carolina summer sun can be vicious. Her arms get really dark in the summer and she is constantly reapplying sunscreen, which gets old after a while. So I was so excited to share this finding with her! And I thought why don't I share it with you guys in case you did not see the article by Refinery29 listed
here
.
____________________________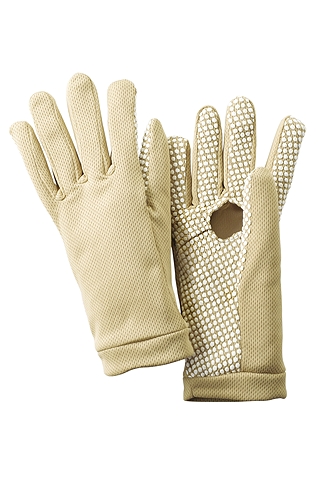 Photo from Coolibar
If you are gardener, I think these full-finger gloves by
Coolibar
would be perfection! Not only will they protect you from the sun but they also protect your hands from dirt and injury. Isn't that great?
-----------------------------------
Coolibar also sells sun sleeves, however their selection is not as great as
Eclipse Glove's
. The sleeves by Eclipse Glove's have pattern and cool color options. The sleeves are perfect for tennis, golf, hiking, biking, and driving without tented
Photo from Eclipse Gloves
____________________________________
Photo from Bloxsun
While it's obvious that gardeners, landscapers, outdoor athletes would love to use these or attract them but these gloves and arm sleeves are so fashionable that anyone wanting protection can wear and eliminate the need to reapply sunscreen to hands and arms! Therefore you can be fashionable and protected at the same time!
These gloves and sleeves help with uneven tanning, skin damage, and the dreaded skin cancer.
Doesn't that sound awesome?
----------------------------------------
So, what do you think? Would you try any of these items? If so, where do you see yourself wearing them and which ones would you wear?
As always, Thank you for reading!